IF YOU HAVE ANY QUESTIONS ABOUT ORDERING,
CONTACT SCOTT AT:
or
"We
love

your LDS missionary
countdown calendars and posters!
I've already ordered several to give as gifts and will order more.
Everyone loves them!"
~ Sister Linford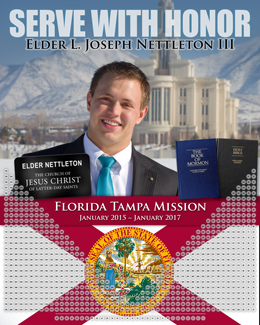 This is a Missionary Countdown Calendar
Each Missionary Countdown Calendar
and Missionary Poster
is individually crafted and personalized
with your missionary's:
Photograph - Headline - Name - Name Tag
Scriptures Image - Country or State Flag
Mission Name - Service Dates
Favorite Scripture (Missionary Posters only)
— — — — — — — — — — — —
Each calendar and poster is printed on
high-quality photographic paper.
Simply blackout the calendar countdown circles
with your Sharpie
™
or dark pen.
​
I have a 100% satisfaction rating with missionary families.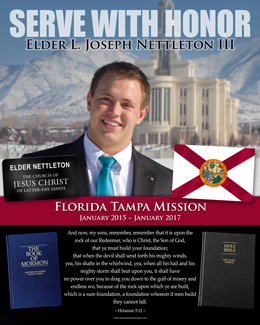 This is a Missionary Poster
Depending on the size of your missionary's photo and the speed of your internet connection, it may take a few moments to upload your photo and connect to Paypal.
Gift Certificates make a perfect gift for any missionary family.
• Gift these to family and friends as printed or emailed gift certificates.
Personalized Missionary Calendars and Posters